Iva Wilcox,
Instructor
Saturday, September 26, 2009 9:30a-12:30p
Skill Level: All Class Fee: $75.00
Dare to wander on Halloween during The Witching Hour! All kinds of mischief and magic abounds with witches here and there such as this little one. Join visiting artist Iva Wilcox as she guides you in creating this delightful vignette inside a one-of-a-kind paper mache witch's shoe. You'll work with reproduction vintage photos, crepe paper, ribbon, gold Dresden trim, paint and a little Halloween glitter!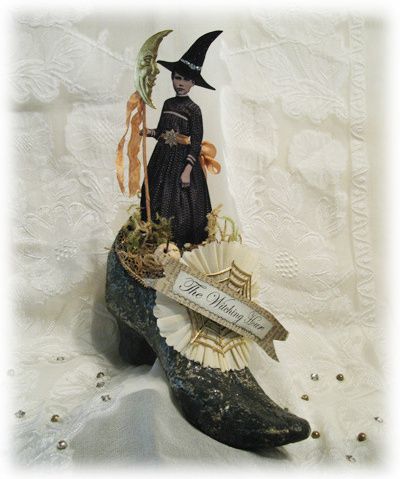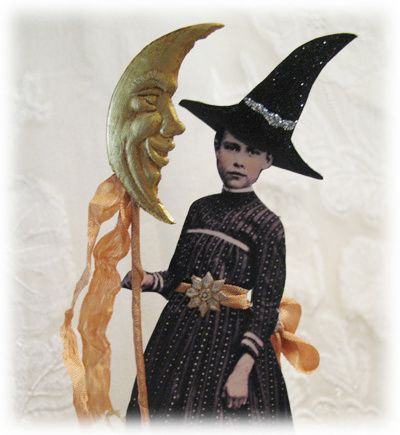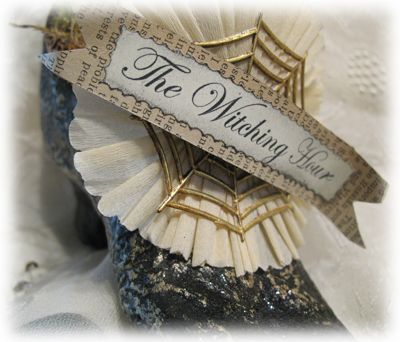 • wet and dry adhesive • pen and pencil • charcoal pencil • black gesso
• scissors • wire cutters • 2-3" styrofoam ball • cloth covered floral stems
• copy of a vintage photo to be used for your witch (approx 4 - 4 1/2") 

All class fees are prepaid, and non-refundable. Contact class manager Dede Warren at 714-757-0558 to reserve your place in this class. You may also reserve your place in person at the store by check, cash or credit card, or via phone with your credit card. Call us if you need assistance...we'll be happy to help!