Cindy Gonzales, Instructor
Saturday, December 5, 2009 10:00a-3:00p

Skill Level: All Class Fee: $75.00
Cindy Gonzales is back with us to teach the 3rd in a series of Crowns & Tiaras, this time featuring an Old Fashioned Christmas scene on another of her life size crowns. Cindy has recreated a charming Christmas village reminiscent of days gone by. A winter scene complete with a vintage home as it's center piece, Christmas tree, jingle bells, and Santa in his sleigh as he flies through the night sky make this sure to become a family favorite! Once again Cindy will provide almost everything needed to complete this stunning crown. This workshop features assemblage, collage, vintage millinery, crepe paper, and much more. We've had rave reviews from those who've seen this in the shop, so don't delay in signing up!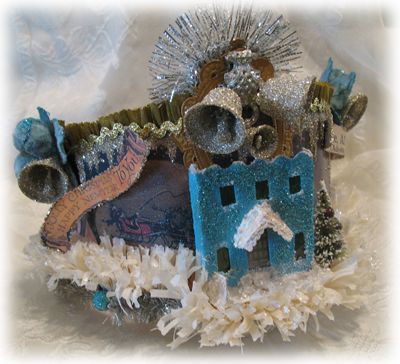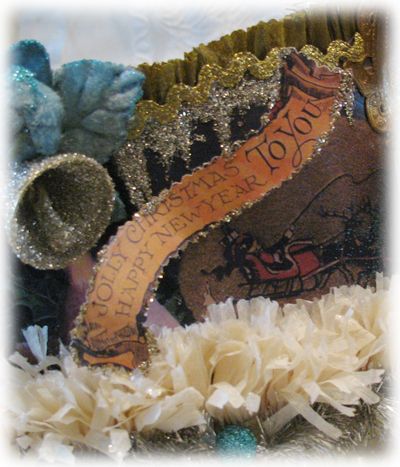 Supply List:
• scissors • small needle nose pliers • tweezers 
• hot glue gun & glue • x acto knife • glass glitter 
• 1 rhinestone embellishment • silver tinsel (

if you have it)
*feel free to bring any special embellishments as well!
All class fees are prepaid, and non-refundable. Contact class manager Dede Warren at 714-757-0558 to reserve your place in this class. You may also reserve your place in person at the store by check, cash or credit card, or via phone with your credit card. Call us if you need assistanc
e...
we'll be happy to help!