Nancy Jamar, Instructor
Sunday, August 11, 2013, 10:00-3:00p
Class Fee: $75.00, all inclusive
Great workshop for beginning rivet tool students who want to explore more applications for this sensational tool, or for newbies who want to try it on for size and see if they like it. You'll make this beautiful cuff bracelet, composed of a vintage brass and steel cuff bracelet paired with a beautiful crown bezel in brass, and side embellishments from Gilding's inventory of pewter and brass. You'll complete two bracelet bases during class, and then we'll send them off for plating in rich sterling. Our sample is shown gently aged with our gold and silver darkener.
Choose from images from my library you can trap under glass domes, or select beautiful faceted German rauten stones to be the centerpiece of your cuff...or do one of each! When your pieces come back from the plater, you'll pick them up at the store and finish them by setting your focals and crimping the bezels.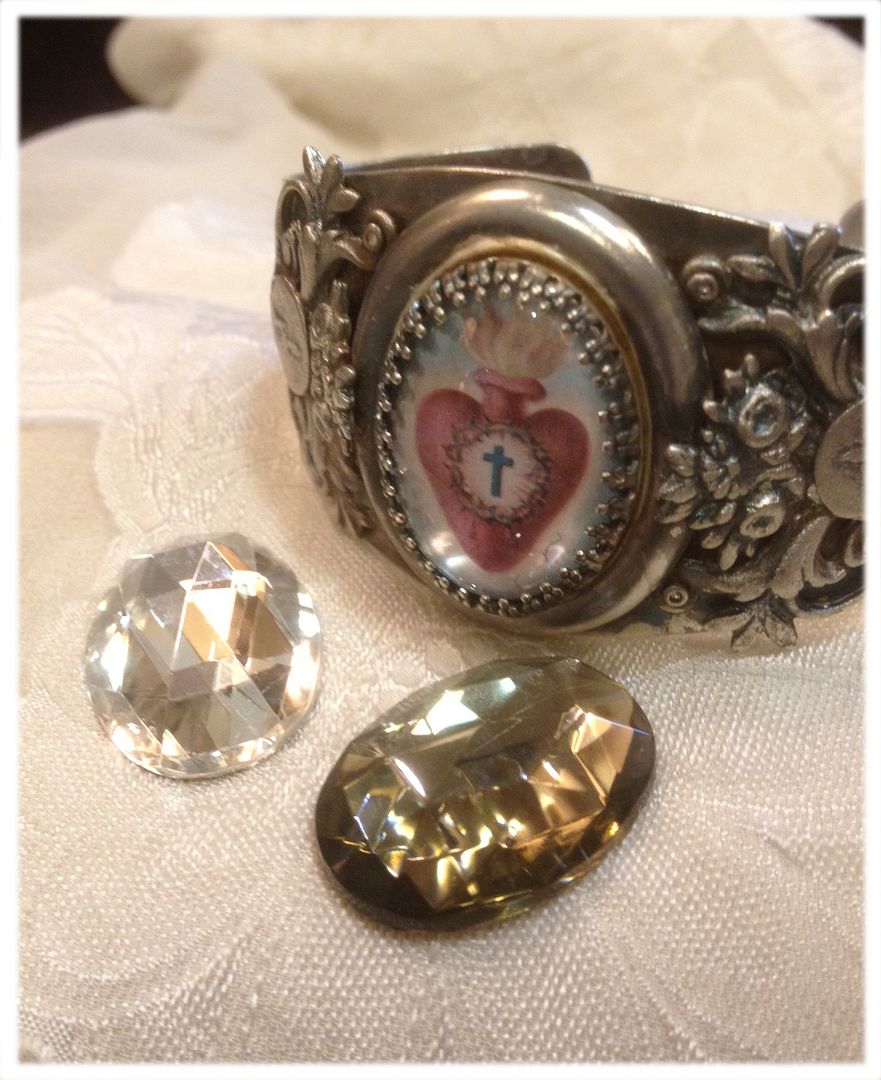 Tools and supplies: Bring basic jewelry tools to class that include pliers (flat and round nose) and cutters. If you have shaping pliers or a rivet tool, please bring them, too. We'll be using two sizes of shaping pliers to size the cuffs, and will try to have all these, including the rivet tools and supplies, on sale that day at class. We can also take orders for the rivet tools and supplies.
Your class includes: Two cuff bases, two bezels, four embellishment pieces, and your choice of glass domes and images and/or faceted cabochons, and plating of your items, which should take 1-2 weeks to complete. We will have at least two rivet tools and vises on hand to use, and your riveting supplies are also included.
All class fees are prepaid, and non-refundable. Contact class manager Dede Warren at 714-757-0558 to reserve your place in this class. You may also reserve your place in person at the store by check, cash or credit card, or via phone with your credit card at 714-680-8893. Call us if you need assistanc
e...
we'll be happy to help!