Mixed Media Technique and Materials Workshop

with an emphasis on soldering
Robin Dudley-Howes, Designer and Instructor
Workshop Fee: $55.00
Kit Fee; $10.00
Saturday, August 1, 2009 11:00a~3:30p
New Date Just Opened
!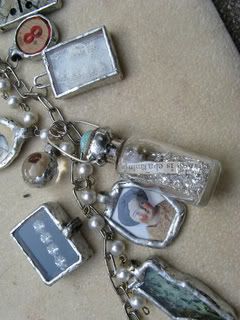 A swath of fabric from a treasured garment, a petal from your wedding bouquet, a marble from your grandfather….these are treasures that are unique to you and will become forever preserved in this special class. We will explore various techniques to encapsulate and preserve your treasures by learning techniques in soldering basic glass charms and uncommon objects like dice, dominos, small china or bisque items (old doll arms etc), small pieces of a plate you couldn't throw out….you get the picture. This is a great class for beginners and those who want to hone their soldering skills. Basic jump rings to attach to your necklace will be taught as well. Bring in a box of your favorite treasures and we'll see if we can make them into charms for your very own treasure necklace! This is a process based class. If this is a new hobby for you, please be aware the initial cost for supplies and tools may cost up to $200, possibly more. These supplies will last a long time, so any other classes you take for soldering the cost will be minimal. On the other hand, you may already have many items shown in the supply list below.
Soldering Supply List:
- Bone folder
- Metal cork backed ruler
- Black sharpie marker, thin
- Xeroxed or copy right free images to use for your charms no bigger than a microscope slide or 2x2. Pressed flowers are okay too.
- Lead free solder from Canfield (available at stained glass stores, volcanoarts.biz or glasscrafters.biz)
- Gel flux (available at stained glass stores)
- Cellulose sponge (Glastar brand) not a regular sponge, also available at stained glass stores
- Flux brush with coarse bristles (stained glass store)
- Cutting mat
- Scissors and xacto knife
- Soldering iron 80 watts to 100 watts either a Weller 100 with a small chisel tip (1/8"or 1/4") plus stand and station or a Hakko 45 watt ceramic heater 120v with stand and station. These are available at stained glass stores, volcanoarts.biz (great starter kits available), hakkousa.com or glasscrafters.biz. A small tip is very important (1/4 or 1/8") for all irons. I use the Hakko 45 watt soldering iron. Invest in good equipment...you won't regret it!
- Oil glass cutter with swivel tip (pistol grip) stained glass store
- Glass breaking pliers sometimes called running pliers (stained glass store) you can use mine if need be
- Safety glasses
- Tweezers
Optional: Flux remover, microscope slides, copper tape 1/4 and 3/8 inch, copper sheet backing, sal amoniac. Other Items to consider for your treasure necklace: A chain necklace to add your charms, any length (longer is better). A box of your own treasures (dice, wood game pieces, small fabric or lace bits, sm.glass viles, domino etc.) Photographs should be zeroxed and shrunk to no larger than 2x2 to fit into a small charm. Pliers: flat nose, chain nose and round. Wire cutters. Your Kit will have the following items: If you do not want or need a kit, we will deduct $10 from your class fee. Microscope slides, 2x2 pre cut glass, beveled glass, flat back marbles, copper tape, bails and wire, copper sheet. You will have access to Robin's glass grinder, some of my images and flux remover.
All class fees are prepaid. Kit fees are paid directly to the artist. Contact class manager Dede Warren at 714-757-0558 to reserve your place in this class. You may also reserve your place in person at the store by check, check, cash or credit card, or via phone with your credit card. Call us if you need assistanc
e...
we'll be happy to help!
Details on the class blog at www.gildingthelilyclasses.blogspot.com.