Mixed Media Portfolio with Robin Dudley-Howes
November 15, 2008
11:00am ~ 3:00pm
Teacher's Fee: $50 Skill Level: All (basic hand sewing skills)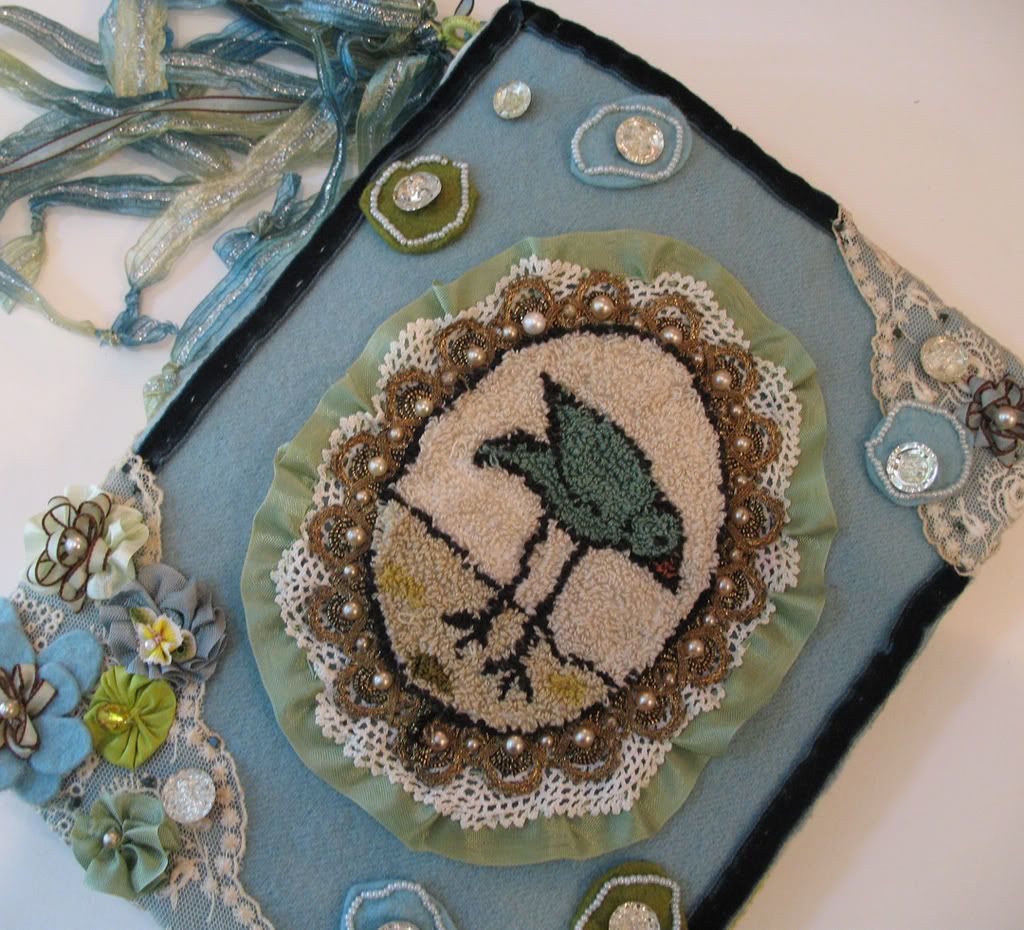 I love this sweet little portfolio, which reminds of an oversized needle case, one of my favorite vintage things. Robin has embellished this with easy ribbon flowers, vintage trims, buttons and laces, along with a focal she created herself in needle punch. An applique, cabochon or almost anything will make a great focal, even a vintage photo framed in lace.
Below you'll see some of the interior of the book: what a wonderful take-along! I picture myself tucking in all the bits and bobs I need for a project and taking them along on a drive, an appointment where I know I will want to keep my hands and mind occupied, or even a day at the park or beach! Look at the wonderful old dress clip she has incorporated into this page...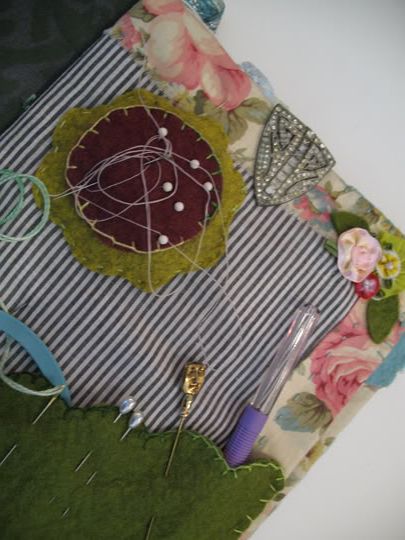 Robin's Class Description Follows:
"We will be making a beautiful book like portfolio to hold sewing tools and needles or any precious treasures you may have. You will learn how to make a simple fabric covered book with binding and signatures (pages), simple embroidery, some ribbon roses and easy tassels! The center piece on the cover was made using miniature punch needle embroidery and we will go over that for those who are interested however if you already have a punch needle embroidered piece that you would like to use, please bring it or any other appliqué that might work. We will also go over how to felt your own wool squares at home. This is a process oriented class, however you might be able to finish this book in class depending on your experience. To make your time in class more efficient come with a theme or color scheme in mind.
"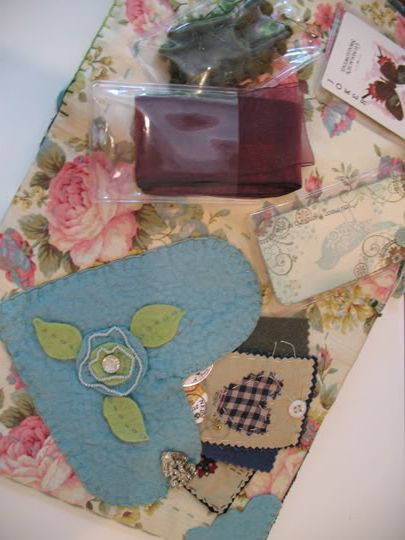 Materials List:
• Sewing needles, tapestry needles and beading needles
• Scissors
• 1/2 yard pre-felted wool or something like it
• 1/2 yard regular wool
• 1/2 yard for inside cover and pages…I used a cotton floral print
• A few yards of ribbon like velvet, specialty and rayon for trim, tassels and ribbon flowers~1/8 to 1/4 inch wide
• 11x17 sheet (approx) of plastic needle point canvas for the book covers
• 1/2 yard stiff needle point canvas
• beads, buttons, antique trim, small doilies, old jewelry bits
Optional:
• Punch needle, size small or medium
• Weavers cloth, 10x10 at least
• Several colors embroidery or craft floss (I highly recommend black as a staple)
• 5 " embroidery hoop
• Image for your needle punch design (I used my own). There are kits available with various images