Mixed Media Textile Workshop
Designer and Instructor~Pilar Pollock
Saturday, May 30, 2009 11:00a-3:00p
Workshop fee: $45 prepaid
Kit Fee: $10 payable to instructor
Level: Beginning and up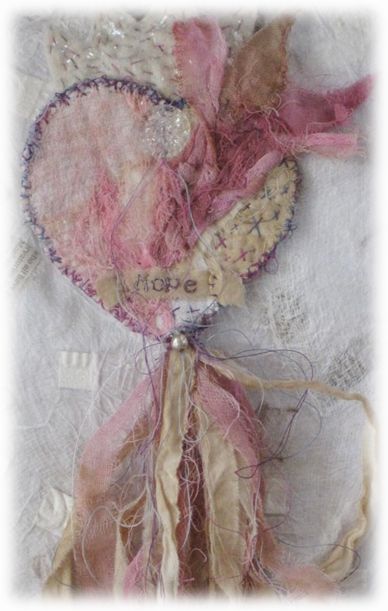 I have been begging Pilar to teach this class ever since she created my own

milagro

for me, and she has finally succumbed! In "

Nuestros Milagros

" (Our Miracles), you will create a lovely personalized

milagro

of your own with artist Pilar Pollock. Pilar has been designing and sewing these lovely talismans on a personalized basis for people, and now you can participate in the process
of making one your own through choosing a word that is singular to your path in life, stamping and embroidering it for the milagro, and then embellishing it with meaningful elements to illustrate your hopes and dreams.
Pilar will bring the
milagros
partially constructed, as each one is individually sewn from her hand-dyed and distressed fabrics and textiles. She will also bring a kit that includes her had-dyed textile embellishments and trims. Bring scissors, needles and thread, and any bits and bobs you may want to incorporate into your own little "miracle." If you wish, you may select from items at the store, including our Antiquities Metalworks religious medallions and other items. We encourage students to bring at least one highly personal element to add to their
milagro
.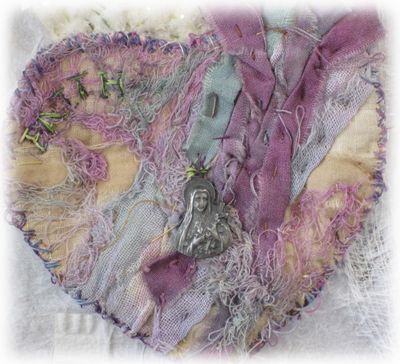 During class, you'll be able to learn with Pilar about her wonderful methods of hand-dying fabrics, selecting textiles for projects, and the composition and construction of textile art that is fast becoming a major form of artistic expression.
Class will be held Saturday, May 30, 2009 at Gilding the Lily. We'll start at 11:00 a.m., but you can come a few minutes early to get settled. We'll have some refreshments for you when you take a breather... Hope to see you there!
All class fees are prepaid. Kit fees are paid directly to the artist. Contact class manager Dede Warren at 714-757-0558 to reserve your place in this class. You may also reserve your place in person at the store by check, check, cash or credit card, or via phone with your credit card. Call us if you need assistanc
e...
we'll be happy to help!