Mixed Media Art Journal Workshop
Designer and Instructor~Dede Warren
Saturday, May 23, 2009 11:00a-3:30p
Workshop fee: $45 prepaid
Level: Beginning and up
Isn't this little confection tempting? Pale pinks and greens, muted by old pink tulle stitched into place, framing tender buds framed by hand stamped text....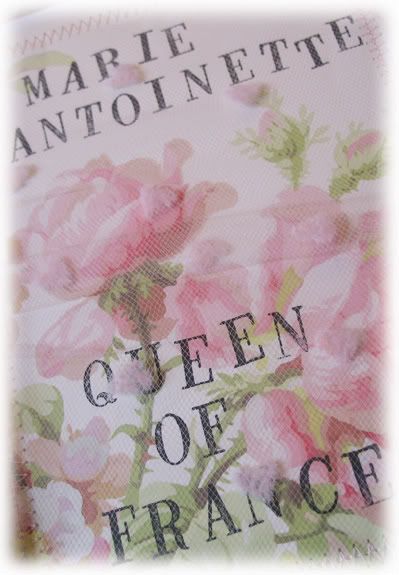 It's time to celebrate Marie with Dede! By now many of you have see the new Marie publication, and read in the forward that Dede started the art project that launched many more and fueled the mania for Marie that has proved quite lasting. Now you can take a day to create your own Marie art journal under the tutelage of the irrepressible Dede Warren!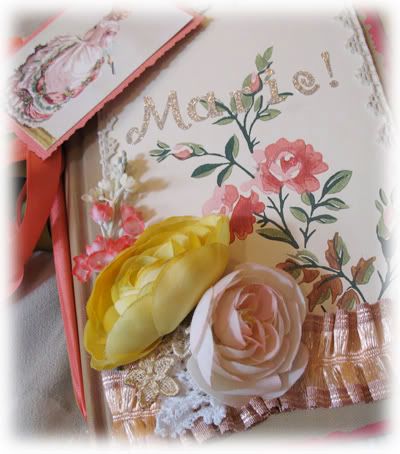 Dede has prepared kits for you that will have you work through construction and paging of your journal, hand stitching your signatures in water color paper, and decorating at least half of your pages. With her, you'll learn paper aging techniques, embellishments, painting, stamping, stitching and more!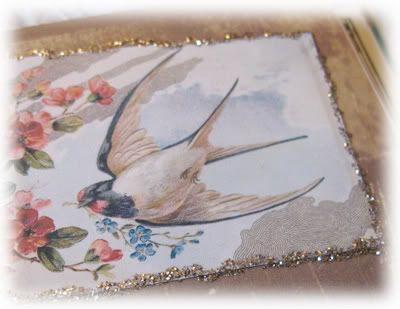 You kit will be filled with lovely images, papers, and vintage bits and bobs that you will use to create your own
petite souvenir de Marie
.
Supply List for this class: paper trimmer • scissors • double stick tape • Tacky glue (white glue) • e6000 • inexpensive paint brush • small bowl for water
Dede will have loads of papers, ribbons and trims for your use, but if you have a special bit or two feel free to bring it along. If you have favorite stamps, markers, or ephemera you can always incorporate these as well.
Class will be held Saturday, April 18, 2009 at Gilding the Lily, and
we have a second date scheduled for Saturday, May 23
. We'll start at 11:00 a.m., but you an come a few minutes early to get settled. We'll have some refreshments for you when you take a breather... Hope to see you there!
A bientot!
All class fees are prepaid. Kit fees are paid directly to the artist. Contact class manager Dede Warren at 714-757-0558 to reserve your place in this class. You may also reserve your place in person at the store by check, check, cash or credit card, or via phone with your credit card. Call us if you need assistanc
e...
we'll be happy to help!
Details on the class blog at www.gildingthelilyclasses.blogspot.com.