Sea Shell Crown Class
Designer and Instructor~Cindy Gonzales
Sunday, July 26, 2009

11:00a-4:00p
Workshop fee: $75.00


Join us with designer and artist Cindy Gonzales as we embark on what is sure to be a wondrous journey. Cindy has created many stunning crowns, and this sea-themed one is easily one of our favorites! We chose this as our first project with Cindy as the perfect summer creation....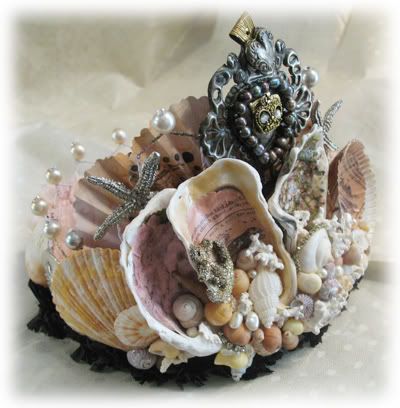 Learn to create a crown base in this workshop, then go on to adorning your own one~of~a~kind creation. You will select from a variety of shells, embellishments, papers and more provided as this talented artist leads you in creating your own masterpiece. Be prepared to be inspired by this lovely and talented lady. The response to her crown in the store has been overwhelming, so please call quickly to reserve your spot. We will do our best to secure an additional seating for this class...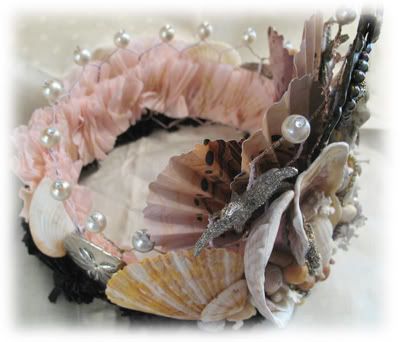 • small needle nose pliers
• hot glue gun and glue sticks

• glue (Tacky or Elmers)

• scissors

• cheap 1/2 inch paint brush

• water bowl

• special embellishments; vintage jewelry is great!
All class fees are prepaid. Contact class manager Dede Warren at 714-757-0558 to reserve your place in this class. You may also reserve your place in person at the store by check, cash or credit card, or via phone with your credit card. Call us if you need assistance...we'll be happy to help!