Mixed Media Jewelry Workshop
Sunday, March 29, 2009 11:00a~3:00p
Nancy Jamar, Designer and Instructor
Workshop Fee: $60 (kit included)
Create this lovely little mixed media necklace in our theme of "Marie in the Garden," incorporating cold connection techniques, wire wrapping, collage, metal aging, image under glaze and even a little sewing thrown in for good measure...we will do it all! The end product is a necklace that includes vintage velvet ribbon, findings, pearls and a portrait of Marie herself.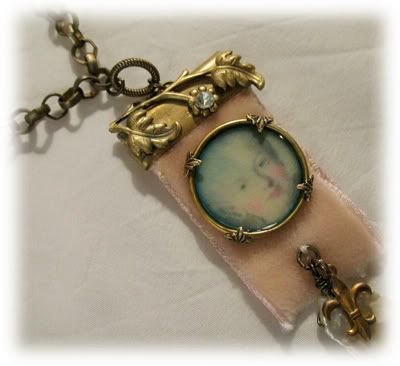 This is a good intermediate class for those students who have already done some cold connection or lots of fun for beginners willing to tackle a little bit of everything. All materials are included in this class, including the fabulous pearls shown, old stock Miriam Haskell and new baroque keishi. Please bring your jewelry tools if you have them.
Marie's sweet countenance gazes out at us from under a leafy bough set with a single vintage rhinestone. Below her a tiny
fleur de lis
dangles in front of the baroque keishi. The necklace itself is created from a combination of Czech faceted glass, pearls and rolo style chain in an assymetrical design, as unexpected as Marie herself!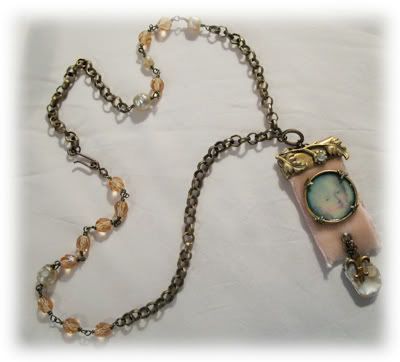 All class fees are prepaid. Kit fees are paid directly to the artist. Contact class manager Dede Warren at 714-757-0558 to reserve your place in this class. You may also reserve your place in person at the store by check, check, cash or credit card, or via phone with your credit card. Call us if you need assistanc
e...
we'll be happy to help!
Details on the class blog at www.gildingthelilyclasses.blogspot.com.