French Beaded Flower Composition
and Mixed Media Workshop
Date: Saturday, March 14, 2009 11:00a~3:00p
Christine Rose Elle, Designer and Instructor
Workshop Fee: $65.00 (or $115 for two classes;
French Florettes
and
Manon Dore Nest
)
Inspired by Shakespeare's Spring song from
Love's Labors
Lost
"Daisies bloom and violets
blue
Lady Slippers
all silver white
Blooming buds of yellow hue
Paint meadows with delight.
Maidens dance in ribboned ring
Blooms of every tree
Hearing gentle robin sing
Spring is here sings he."
Create this lovely mixed media composition centered around the art of French beaded
florettes
. The traditional art of wired beaded florals originated in France, and is transformed here under the artful hands of Christine Rose Elle of Dollybelle Atelier into this charming tableau.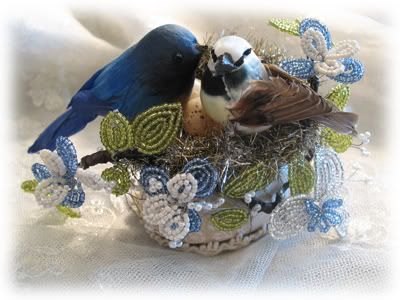 Create your own homage to Mistress Spring! Call her in with Gilded nest and Beaded Florette!
Learn french flower beading techniques and make this tinsel nest birdies and all! Kit fee is included and contains:
• paper mache' egg half
• birds
• tinsel
• trims and papers
• faux flowers (
if you do not take the Florette class
)
If you have the following please bring:
• needle and thread
• Modge Podge
• yukky brush for glue
• scissors
• any ribbons, trims, thin paper you might want to personalize your project with
• Christine will provide glue guns and other various supplies!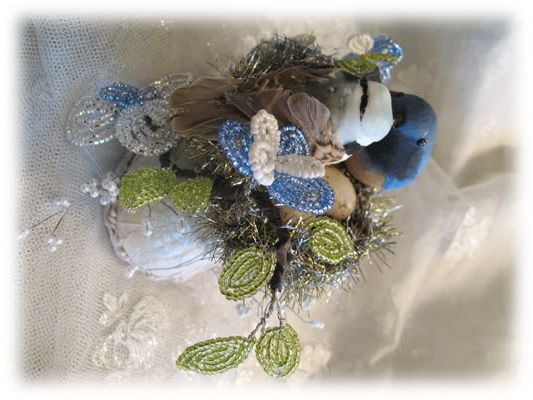 Students wishing to take both Christine's Friday evening class in
French Florettes
and continue Saturday with the
Manon Dore Nest
may register at the reduced rate of $115 for both classes.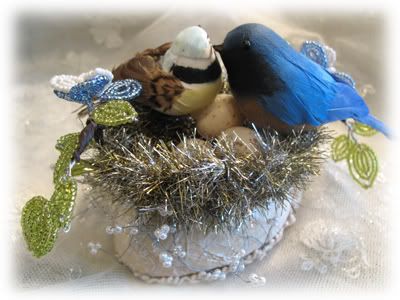 All class fees are prepaid. Kit fees are paid directly to the artist. Contact class manager Dede Warren at 714-757-0558 to reserve your place in this class. You may also reserve your place in person at the store by check, check, cash or credit card, or via phone with your credit card. Call us if you need assistanc
e...
we'll be happy to help!
Details on the class blog at www.gildingthelilyclasses.blogspot.com.