Beaded French Flower Workshop
Friday Evening, March 13, 2009 5:00p~9:00p
Christine Rose Elle, Designer and Instructor
Workshop Fee: $65 (or $115 if combined with the
Manon Dore Nest
)
Learn the centuries old art of French beaded flowers, which date to as early as the 1500s! Under Christine's skilled tutelage, you'll learn all the techniques you need to start creating your own dazzling floral compositions with wire and seed beads.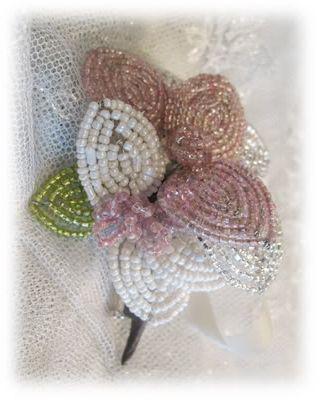 Create flowers, leaves and buds using the techniques learned in this class, and fashion your components into a wonderful French beaded brooch, or use them to adorn a mixed media art composition, as Christine does in her shadowboxes (
shown below
).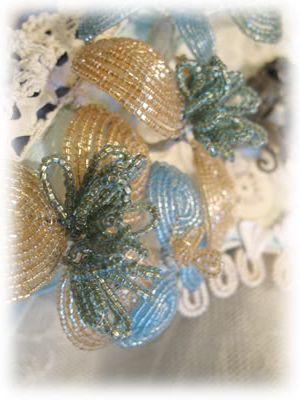 Friday evening's class may be continued with Saturday's
Manon Dore Nest
for a combined workshop fee of $115 for both days. Samples for both classes are on display in the store.
All supplies are included in kit fee:
• beads
• wire
• beading mat
• floral tape
• bead cups
• clippers
Please bring:
• pair of small jewelry pliers
All class fees are prepaid. Kit fees are paid directly to the artist. Contact class manager Dede Warren at 714-757-0558 to reserve your place in this class. You may also reserve your place in person at the store by check, check, cash or credit card, or via phone with your credit card. Call us if you need assistanc
e...
we'll be happy to help!
Details on the class blog at www.gildingthelilyclasses.blogspot.com.