"Memories Under Glass"
Mixed Media Jewelry Workshop
Sherry Goodloe, Designer, Instructor
Sunday, March 8, 2009 12:00-3:00 Skill Level-All
$40 Class Fee (Kit Included, see below)
Create your own "memories under glass" with Sherry Goodloe in this mixed media jewelry project using antique opticians' lenses, ephemera, as well as your own pieces of memorabilia and meaningful items.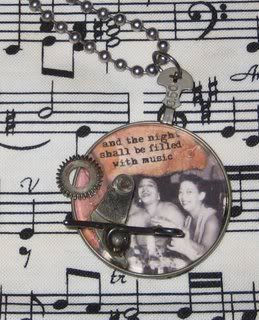 All supplies will be included by the artist, with the exception of tools. Please bring with you a pair of detail scissors and any personal items you would like to include in your necklace (you may want to make copies of vintage or antique photos, retaining your originals; make sure photos, or the image area you want to work with, are no larger than 1.5x1.5 inches in size.
You will create a vintage optical lens necklace with your photos or images, or you will be able to select from image sand clip art that Sherry will bring with her. Decorative papers, printed words, watch parts and other bits and bobs will be supplied by Sherry to embellish your necklace, as well as a choice of ball chain or velvet ribbon for your necklace, and suede leather for backing your pendant.
All class fees are prepaid. Kit fees are paid directly to the artist. Contact class manager Dede Warren at 714-757-0558 to reserve your place in this class. You may also reserve your place in person at the store by check, check, cash or credit card, or via phone with your credit card. Call us if you need assistanc
e...
we'll be happy to help!
Details on the class blog at www.gildingthelilyclasses.blogspot.com.