Little Gift Box Workshop with Artist Priscela Magdaleno
Wednesday, November 12, 2008 11:00am~3:00pm
Price: $15.00 per person Skill Level: All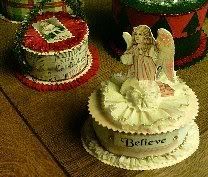 Spend a wonderful Wednesday afternoon learning to create these adorable "petite cadeau" or little gift boxes with paper and ephemera artist Priscela Magdaleno. You'll bring your own mache boxes, and learn techniques that you can carry forward onto more boxes and other paper-based projects as well. This is both a process- and project-based class, so you'll take a beautiful finished gift box home with you.
2. 2 sheets 12x12" decorative paper ( Priscela will bring extra paper)

3. Glue Stick ( the larger the better!)

4. Priscela will bring vintage children's photos ( if you have any you like, please bring them)

5. Any glitters or embellishments you might want

6. Scissors

7. Paper mache box ( approx 4 x 4 x 3 inches square) it should be small to start your first box; after that the sky is the limit!



Priscela will bring:


Rolls of crepe paper (mainly white, pinks, pale yellow)

Pinking shears

(She has two pairs; bring your own if you have them; we also have lots of trimming scissors in the store)

Swet little photos and images


High quality "braces" to hold your paper in place, cleverly disguised as...clothespins!




Note: if you would like the inside of your box painted, please paint it before you come to class; that way we just concentrate on the exterior decoration and embellishment!