"Carole Lombard" Millinery Flower
Silk Millinery Flower Workshop
Designer and Instructor~Arlene Baker
Saturday, June 20, 2009 10:00a-5:00p
Workshop fee: $55 prepaid
Kit Fee: $25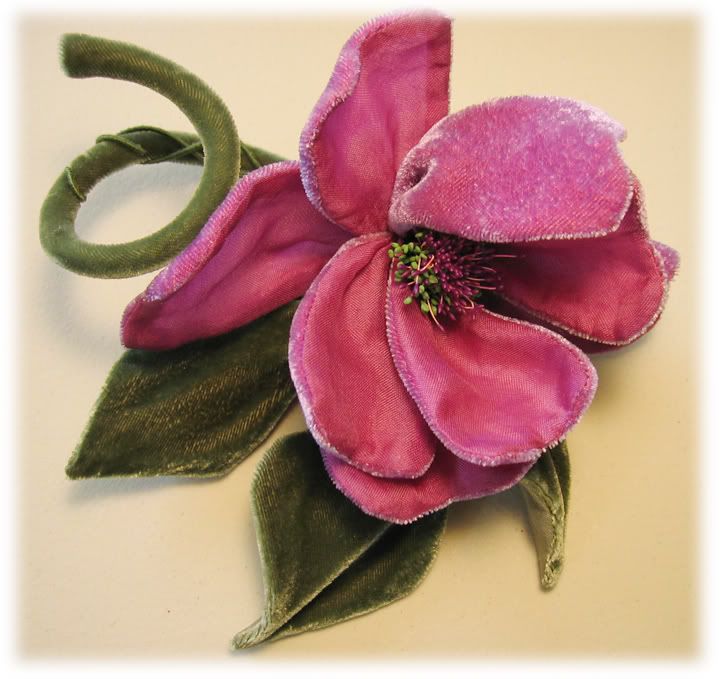 Capture the allure of the 1940s screen goddesses with this elegant and sophisticated silk and velvet millinery flower. Artist and designer Arlene Baker has created this beautiful and nostalgic tribute to the actresses of the era, and now you can create your own!
Your Kit will include:
• silk velvet with plush nap (select the color of your choice from samples in store; Arlene will bring coordinating organza, and velvet for the leaves and stem)
• sewing thread to match velvet
• stamens
• 34 gauge beading wire
• embroidery floss
• 3 pieces 26 gauge stem wire, 18" cloth covered
• 1 piece 22 gauge stem wire, 18" cloth covered
• 1 yard yarn
• 1 each, pin back clasp, 1-1/4", optional
• Aleene's Tacky glue or similar
• 3 sheets tracing paper or plain bond paper
Arlene will also be bringing some of her fabulous vintage flowers to illustrate her inspiration for this project, and perhaps will share some of her other work with us as well. Be prepared to be inspired by this lovely and talented lady, who is also a published author, and renowned collector.
Tools
to bring:
• scissors • wire cutters • sewing needles • tape measure
• sewing pins • pencil or pen • round toothpicks
• awl or sewing stiletto
Other Notions
• safety pin or bias turning tool • Scotch transparent tape
• small brush and container for glue
All class fees are prepaid. Kit fees are paid directly to the artist. Contact class manager Dede Warren at 714-757-0558 to reserve your place in this class. You may also reserve your place in person at the store by check, check, cash or credit card, or via phone with your credit card. Call us if you need assistanc
e...
we'll be happy to help!