Nancy Jamar, Instructor
Sunday, May 29, 2011
, 11:00-3:00p

Class Fee: $55.00


Nancy will teach this

ex voto

cuff to limited seating of seven persons, with May 29 as our second seating. We will be using the new piercing and riveting tool and working with vintage and new items to create this stunning cuff bracelet.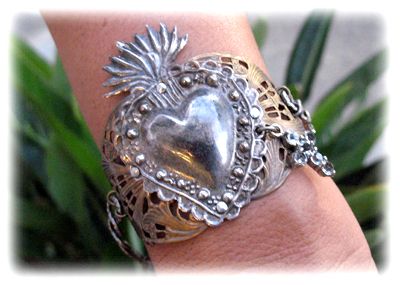 The project incorporates a vintage filigree that will be shaped to your own wrist, an

ex voto

heart from Peru, cast pewter connectors, Nigerian silver beads, and aged rhinestone rondelles for just a little bit of bling. A beautiful cast metal cross set with rhinestones dangles from the ex voto in the front. Metals mix freely in this piece for added interest, and we will be riveting and cold connecting in this workshop.

This class is all inclusive...no supplies are needed. Just bring yourself, your tools if you have them, and if anyone purchases their own piercing and riveting tool, please bring it along to share.

Those interested in acquiring their own tool before this workshop can find it here. I recommend the 'long reach' tool, which allows you to work thicker materials or more layers in your projects.


All class fees are prepaid, and non-refundable. Contact class manager Dede Warren at 714-757-0558 to reserve your place in this class. You may also reserve your place in person at the store by check, cash or credit card, or via phone with your credit card at 714-680-8893. Call us if you need assistanc
e...
we'll be happy to help!