Mixed Media Chandelier Class
Saturday, March 21, 2009 11:00a~2:00p
Kristen Robinson, Designer and Instructor
Workshop Fee: $50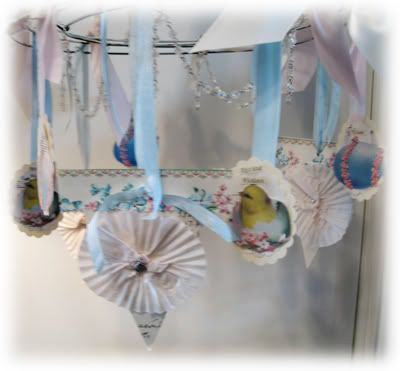 Sweet spring ephemera finds itself nestled alongside the sparkle and shimmer of rosary beads and rhinestone brads. Satin ribbon flows onto a ring of spring beauty in this non-illuminated chandelier that is reminiscent of the May poles of yesteryear. Reproductions of vintage wallpaper and ledger pages from the early 1900s are transformed into layered pennants that annouce the beauty of pastel colors and paper flowers. The perfect addition to your spring days and decor.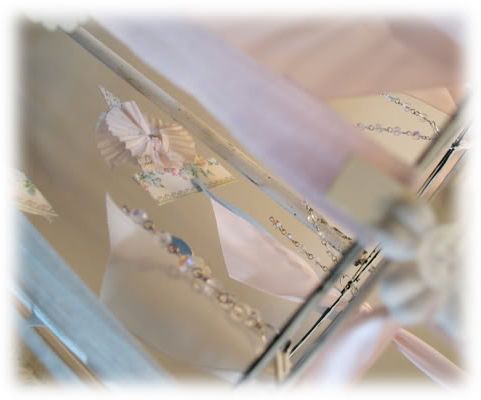 All materials are provided in class with extra goodies for you to enjoy! Please bring the following tools with you:
• Paper adhesive (I prefer Zip Dry glue which is available at Michael's and Joann's)
• Scissors, both small and lage, as you will be cutting out images with fine details
• Needle nose pliers
• Decorative scissors, such as pinking shears (optional)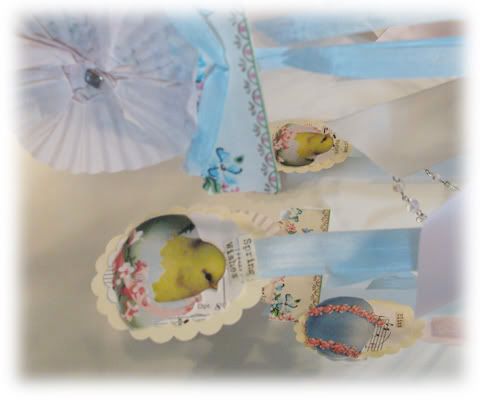 All class fees are prepaid. Kit fees are paid directly to the artist. Contact class manager Dede Warren at 714-757-0558 to reserve your place in this class. You may also reserve your place in person at the store by check, check, cash or credit card, or via phone with your credit card. Call us if you need assistanc
e...
we'll be happy to help!
Details on the class blog at www.gildingthelilyclasses.blogspot.com.