Mixed Media Wire Wrapped Necklace
Saturday, April 11, 2009 11:00a~3:30p
1 seat left!
Saturday, May 2, 2009 11:00a~3:30p
New Date!
Sidney Hanner, Designer and Instructor
Workshop Fee: $65.00
Earring Kit Available: $15.00
This is the latest creation from designer and instructor Sidney Hanner, and this piece is stunning in person. Sid demonstrates her usual creativity in arriving at the point of completion, creating tiny leaves from solder, mixing medias and materials freely, and incorporating found objects into the design, as will students in this class.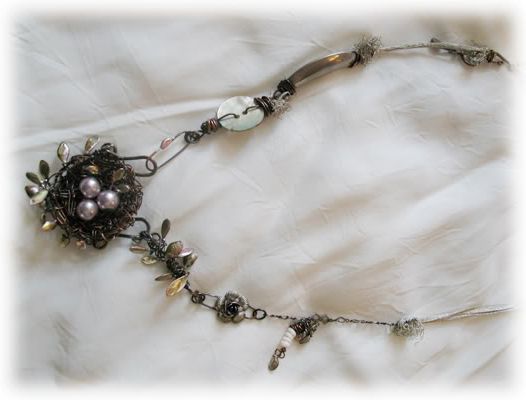 The nest is a free form wirewrap in burnished copper wire, embellished with the tinted metal leaves and cradling three lustrous pearls....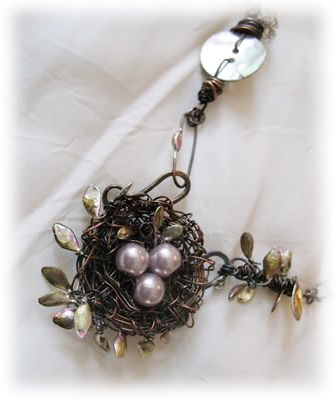 Soldered wire links join the necklace components, as well as wirewrapped components that lend surprising texture and interest...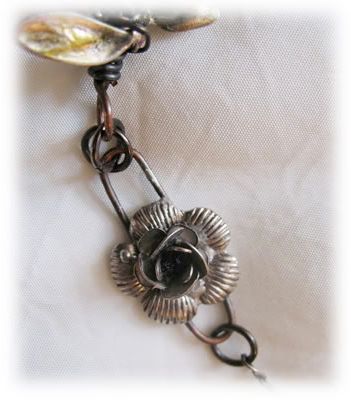 A closeup of one of the found objects soldered into a link, and some of the tiny metal leaves....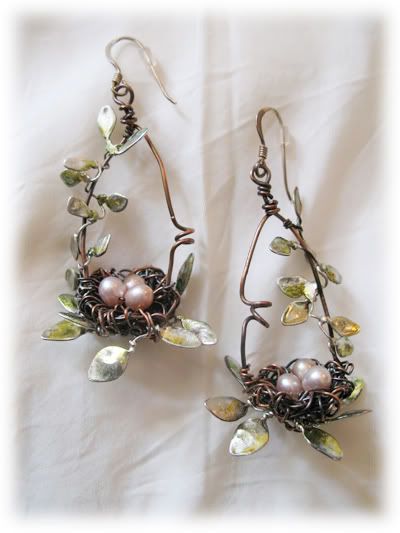 Students will also have the opportunity to take home a kit for these earrings after attending class. You'll leave with your necklace and all the skills to make these incredible ear candy.
Materials List~Students:
Wire: 20, 22, and 26 gauge
Pearls for nest
Old buttons, just a few of your choice
Chain if desired, about 10 inches or so
Metal ribbon or your choice (velvet, satin, etc.)
"Cannibalized" old jewelry pieces and findings (see photo)
Soldering iron and rest
Lead free solder (Sid prefers Canfield Silver Gleam)
Sponge and holder
Flux (Sid uses a smokeless semi-gel)
Glass tile for soldering surface
Flat and round nose pliers
Materials List~Instructor:
Full color instruction booklet
Crystals for each student
Has-hie beads for each student if they like the look
Steel bench block and hammer
Liver of sulphur for patinas on wire
Dyes for tinting soldered leaves
All class fees are prepaid. Kit fees are paid directly to the artist. Contact class manager Dede Warren at 714-757-0558 to reserve your place in this class. You may also reserve your place in person at the store by check, check, cash or credit card, or via phone with your credit card. Call us if you need assistanc
e...
we'll be happy to help!
Details on the class blog at www.gildingthelilyclasses.blogspot.com.