Cold Connection and Collage Jewelry Workshop
Sunday, January 18, 2009 11:00a~3:00p
Nancy Jamar, Designer and Instructor
Workshop Fee: $60 (All supplies included)
I've always had a fondness for the old french souvenir bracelets, and have several in my collection; one from Lourdes, several from Paris, but I have a particular love for the old mother of pearl and filigree bracelets. It has been my intent for a few years now to recreate these bracelets, and that being said, I have been on the hunt for the components I would need...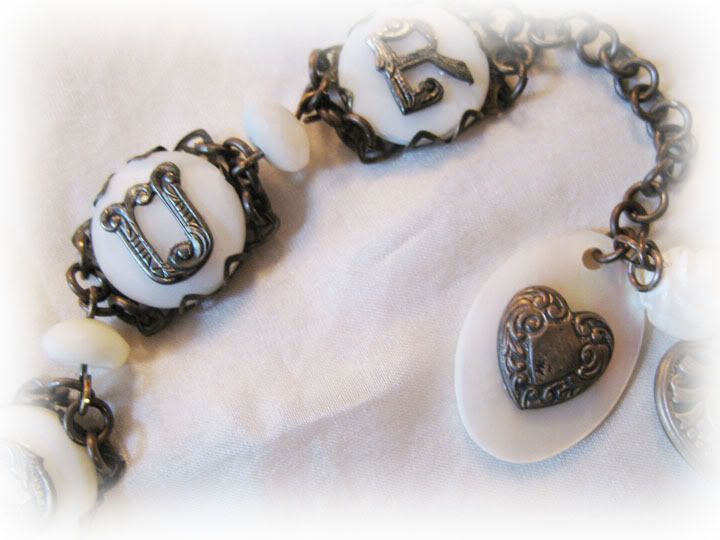 Mission accomplished! Even though I was beginning to despair of ever assembling all the things I needed, it finally
did
come together, for the first time in this lovely little French "Amour" bracelet. Composed of antique mother of pearl buttons, filigrees, rings, and stamped brass letters spelling out "love" in French, the bracelet is finished with a fob of brass hearts, one a locket, and another a vintage casting layered on an oval mother of pearl cabochon. A little mother of pearl bead carved as a rose links them. Each letter is separated by a beautiful faceted mother of pearl rondelle....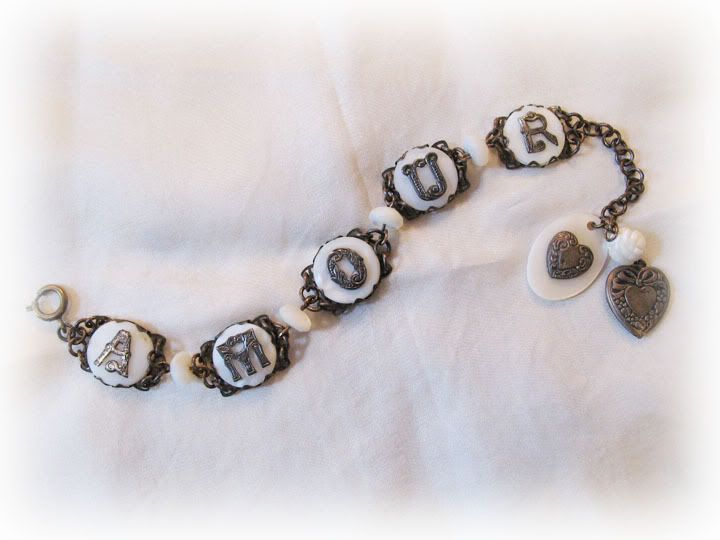 Class will be held Sunday, January 18, from 11:00~3:00. Cost is $60, and everything is included...just bring yourself, and tools if you have them. This bracelet will also be available as a kit ($45.00) for those of you who live outside the area. All cold connection techniques, with vintage styling and authenticity. Check in for new updates on the class blog, photos, and more, coming soon and call to reserve your kits...for the time being, they will be limited to supplies on hand.
All class fees are prepaid. Kit fees are paid directly to the artist. Contact class manager Dede Warren at 714-757-0558 to reserve your place in this class. You may also reserve your place in person at the store by check, check, cash or credit card, or via phone with your credit card. Call us if you need assistanc
e...
we'll be happy to help!
Details on the class blog at www.gildingthelilyclasses.blogspot.com.